Old School All Stars: Lloyd
Original, One-of-a-kind, miniature paintings by Mick Reasor featuring fictional heroes of the gridiron. This card portrays Red "Lloyd" Garrison, 12 year veteran Quarterback for the Milwaukee Mushers.
Gouache on Rives BFK
2.5x3.5"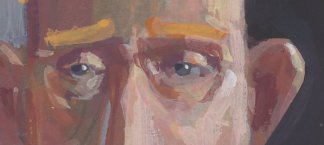 Close Up
Looking for rare and scarce trading cards? Nothing is more scarce than a unique painting of someone who never existed.